Get A Smile That Shines For Your Valentine! [BLOG]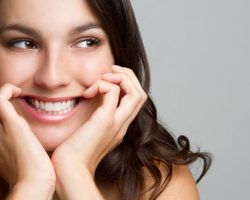 You're probably going to great lengths to plan the perfect night out this Valentine's Day.
You've detailed your car, ordered some flowers, made dinner reservations, and maybe you even have a sparkling surprise gift tucked away waiting for just the right moment to present to your sweetheart.
Our team at Times Square Dental wants everything to go smoothly for your special date night. That's why we want to let you know about one more thing you can do to make your romantic evening a success.
You can get a smile that shines for your Valentine with teeth whitening treatment in our Boise, ID dental office!
Today, we're talking about why Valentine's Day is the perfect excuse to enhance your smile, boost your confidence, and wow your someone special. We'll also tell you why teeth whitening with us is safer and more effective than kits you find in stores.
Then, we'll fill you in on how to schedule your whitening treatment today!
Why You Want A Whiter Smile For Valentine's Day
Whether you're part of the camp who thinks this holiday is a profit-churning machine invented to put undue pressure on couples and singles alike, or a person who looks forward to the chance to celebrate your relationship, a whiter smile can benefit you on Valentine's Day.
*You'll look amazing for your fun night out.
*You can make a great first-impression for a blind date.
*You'll feel instantly more confident so you can relax and have a good time.
*You can post away all the selfies you take throughout the evening with your sweetheart!
The point is, no matter what your plans are for the holiday, a white smile is the perfect accessory to make your evening a success.
Get A Smile That Shines For Your Valentine
The buildup to Valentine's Day can put a lot of pressure on you. Maybe despite all your efforts to plan the perfect date night, certain things didn't quite go the way you wanted.
You might have been unlucky with scoring a dinner reservation at the latest hotspot.
Perhaps you didn't quite fit into the outfit you'd hoped to wear.
Our team at Times Square Dental can't right those problems for you, but we can sure do something for your smile in time for your big date!
We offer powerful teeth whitening treatment that renders dramatic results to really make your smile shine for your Valentine.
You might feel tempted to make a quick trip to the drugstore and grab one from an endless selection of cheap whitening kits.
But we're here to tell you that you get what you pay for!
The store brand whitening systems aren't strong enough to remove stubborn teeth stains like a professional can. The bleaching agents in these products are weak, and the strips and mouth trays are mass-produced. With a poor fit, even weak whitening gels can do harm to your gums.
For a safe, effective whitening treatment, you need to visit our Boise, ID dental office to really make your smile pop!
You have the option of taking home one of our treatments and control the pacing of your whitening, or you can get a brighter smile more quickly with an in-office treatment.
Either way, you'll get the kind of results you won't find anywhere else!
Schedule Teeth Whitening Today!
We know how much pressure Valentine's Day puts on people.
For singles, it can make you feel rejected and lonely.
For couples, it becomes a contest to see who can out-romance the rest.
It should be a time to get dressed up, spend time with someone you care about, and feel relaxed and confident.
So whether you plan on going solo for Valentine's Day or you have a wonderful evening planned with your sweetheart, a smile that shines can make your night out a success!
Let our team at Times Square Dental help you with our powerful teeth whitening treatment in Boise ID.
We can give you a whiter, brighter smile that shines bright for your Valentine!
Call Times Square Dental today at 208-278-1069 fill out our convenient online form to schedule an appointment for teeth whitening treatment before it's too late!
Please login to publish a comment.
Comments (0)