Renew Beauty & Confidence With A Spring Smile Makeover [BLOG]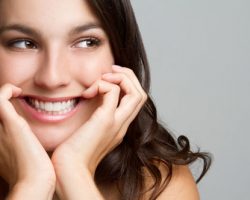 With each new season, there are certain things we have to consider if we want a healthy, beautiful smile.
We've been talking in this month's blogs about spring and how it can affect your teeth and gums. From protecting your mouth during an increase in activity level to whitening your smile for special events, this turn of the season demands certain changes to your approach to good oral health.
Another one that inspired today's blog is how spring is a popular time to focus our attention on tidying things up, do some decluttering, and sort of pressing the restart button on our lives in some ways, big and small.
Today, we're talking a smile makeover at Times Square Dental and how we can use it to help you welcome spring with a renewed sense of beauty and confidence.
A Smile Makeover Is All About YOU!
During your first consultation with Dr. Hastings or Dr. Dial, you'll talk about the things you don't like about your smile and what you want your new smile to look like.
From there, we will design a treatment plan that incorporates the best in cosmetic dentistry until we find the most efficient, affordable path to your gorgeous new smile in our Boise, ID dental office.
*Some Cosmetic Solutions Are Simple*
Not every smile problem needs a complicated solution. Some can be take care of simply, quickly, and affordably and still drastically improve your look and your confidence.
One way to breathe new life into your smile is with professional teeth whitening at Times Square Dental.
Not only do we use whitening systems that are far more powerful than anything you'd find at a store, but you can choose the one that fits best with your schedule and your goals.
If you have an important event coming up, you can whiten your teeth quickly in just one visit to our Boise, ID dental office.
Or if you'd rather, you can control the treatment yourself with a take-home kit that allows you to get the whiteness level you want on your own time.
But perhaps along with yellowish teeth, you also have some dents, dings, and rough edges you'd like to have smoothed out.
Tooth bonding and contouring can solve those types of cosmetic issues. Bonding is simply filling in surface flaws and polishing over them with a tooth-colored resin. Contouring involves a non-invasive resculpting of teeth that stand out because of their shape, size, or rough edges.
Both are relatively simple smile enhancements that can make a huge difference in what you see in the mirror!
*Others Are More Transformative*
One of the reasons you might feel ashamed of your smile is the state of your teeth and how they're affected over the years by wear and tear.
From chewing on ice cubes, to accidents, to health conditions, your teeth can be damaged to the point where you need a bit more transformation.
Dental veneers conceal a wide range of cosmetic flaws, such as:
-Stains
-Small gaps
-Chips
-Cracks
-Uneven or misshapen teeth
Using thin, translucent shells, our dentists can cover unsightly imperfections so that your smile looks bright and smooth again.
By etching some of your existing tooth enamel, your veneers will be placed on top of your teeth and bond to them all the way up to your gumline with a perfect, comfortable fit. The veneer itself is made of a material that replicates natural enamel so that your smile will look flawless without looking phony.
If there were one cosmetic treatment that makeover your smile all on its own, dental veneers would be it!
*A Great Smile Is More Than Pretty Teeth*
Your teeth are only part of a great-looking smile.
You also want your gums to be healthy, pink, and nicely-shaped.
If you've been unlucky enough to have smaller teeth or excess gum tissue that overpowers your smile, one of our skilled dentists can carefully reshape your gumline.
This will make your teeth look more proportionate and your smile, overall, more balanced.
Another problem we may need to address in poor gum health. Plaque and tartar buildup can lead to gum disease and recession, which threaten your oral health and your smile's appearance.
We can use gum disease treatment to make sure your beautiful teeth are lined up with healthy, beautiful gums!
Start Your New Smile Journey Today!
It's time to do something for yourself. It's time to come out of hibernation and start enjoying your life free from the burden of an unattractive smile.
With our various cosmetic treatments at Times Square Dental, you can renew your beauty and confidence with a glowing, flawless smile to put a spring in your step this season.
Learn more about our smile makeover options and which combination of treatments is best for your smile.
Call our Boise, ID dental office today at 208-278-1069 fill out our convenient online form to schedule your first cosmetic consultation.
Please login to publish a comment.
Comments (0)