A Smile Makeover For Summer [BLOG]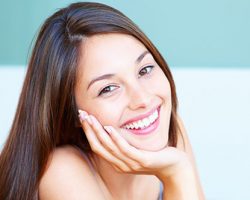 Summer is the perfect time to finally get to those projects around the house you've been putting off. Maybe there's a piece of furniture you'd like to repurpose. Perhaps you'd like to transform a spare bedroom into a new weight room. Or maybe you'd like to paint your kitchen and replace the cabinets.
Our Boise dental staff wants you to consider another kind of summer project. It's one that offers transformative benefits and is a phone call away. A smile makeover at Times Square Dental is a series of cosmetic and restorative procedures that can have a profoundly positive impact on your life!
When you're not happy about your smile, you know about all the ways it can hold you back. It affects your state of mind, your personal and professional relationships, and even your health. Dr. Hastings and our team of professionals hope to inspire you to finally put your health and happiness on the list of summer projects!
Today's blog talks about what a smile makeover can do for you. When you allow yourself to imagine a smile you can feel good about and realize how easy a process it can be, you're one step closer to enjoying the high quality of life you deserve!
A Smile Makeover Requires A Plan
Just like the DIY project you have lined up this summer, a smile makeover starts with a plan. Think about the piece of furniture you'd like to refurbish. You wouldn't just grab some paint and a paintbrush and go to town. The paint wouldn't go on smoothly, it would cover the hardware, possibly run and streak, and likely wouldn't adhere to the piece's original finish.
Instead, you'd need to begin by mapping out the series of steps necessary to render the most attractive end result. It would involve removing the hardware, sanding and conditioning the wood, and applying base and top coats with the appropriate tools.
In the same way, a smile makeover begins with a comprehensive plan of treatments. And these steps are going to be different for everyone. Dr. Hastings will thoroughly exam the state of your teeth and gums and then help you determine a treatment plan that suits your needs, goals, and budget.
So the first good thing we can say about a smile makeover is that it's custom designed just for you. Here are some other benefits of a smile makeover:
A Smile Makeover Makes You Look Younger
Whether it's genetics, age, or lifestyle, your teeth will inevitably change over time. You might grind your teeth while you sleep, and as a result, the overall shape of your smile has changed. Maybe you drink coffee everyday or use tobacco products. You may even have a medical condition that requires certain medications that've changed the color of your teeth.
Whatever the cause of the changes you've noticed in your smile over the years, they can all be erased by a smile makeover. When you have straight, symmetrical, beautifully white teeth, you can take years off of your overall appearance!
A Smile Makeover Boosts Your Confidence
When you don't feel good about your appearance, you're going to avoid things like social gatherings or smiling and laughing around other people. You might even distance yourself from your spouse or loved one, or maybe even avoid potentially intimate relationships altogether.
The point is, your lack of confidence is holding you back from so many wonderful things that life has to offer. But a smile makeover can change all of that! Your newly transformed, radiant smile will give you the confidence you need to pursue the personal, social, and even professional opportunities you've been missing out on!
A Smile Makeover Can Improve Your Life
Because of how a smile makeover can make you look and feel, you will finally be a force of positive energy that will attract people to you. Confident, happy people are contagious! You feel drawn to them. You want to know their secret. You want to adopt their same energy and contentment.
So what's stopping you from being the positive, happy person everyone gravitates toward? If it's your smile, then take the first step and call Times Square Dental TODAY to schedule your consultation for a smile makeover!
You can reach our Boise dental office at 208-278-1069 or fill out our convenient online form.
Please login to publish a comment.
Comments (0)