The Power Of Porcelain Veneers [BLOG]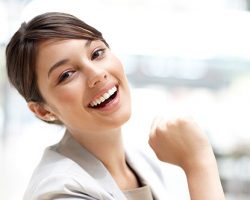 Cultures all over the world have been obsessed with porcelain for centuries. Known for its strength and delicacy, porcelain has been used to craft fine works of art, pottery, and china.
But in the last several years, porcelain has made its way into your mouth, and it's just as stunning as ever.
Crafted from porcelain, dental veneers are one of modern dentistry's hottest commodities for their durability and beauty. These powerful porcelain shells bond to your teeth to cover up minor imperfections on your teeth and in your smile.
Veneers are then shaped and polished to give you a smile fit for an art gallery! If you haven't yet heard of them, you're in luck today!
At our Boise, ID dental office, Dr. Hastings has helped many patients transform their smiles thanks to veneers. Once you read today's blog about the power of these modern wonders, you'll understand the obsession with porcelain from ancient times to right here at Times Square Dental!
Veneers Have The Power To Restore And Protect
As we said before, veneers are bonded to teeth that've been damaged. So if you have chips, cracks, or decayed teeth, we can gently file down your tooth enamel to make room for the veneer, and then we bond it to your tooth.
It's amazing that porcelain veneers have the power to not only cover and restore a tooth in need of repair, but veneers are strong enough to protect your teeth from further harm. As delicately thin as they are, it's truly impressive how they can withstand the test of time and last for years and years.
Veneers Have The Power To Straighten
When it comes to having beautifully straight teeth that are all nicely shaped and perfectly aligned, adults probably assume they missed the boat if they didn't take advantage of wearing traditional braces during middle school like all their friends did.
Thanks to veneers, however, adults who wish they had straight teeth need look no further for an orthodontic solution! Yes, veneers can be shaped so that your teeth are all straight and aligned. You can also enjoy a smile with no small gaps between your teeth because veneers can cover those as well!
Veneers are one of the few ways a dentist can allow you to have the straight smile you've always wanted with the months or years of uncomfortable metal braces! Now that's power!
Veneers Have The Power To Turn Back Time
We can't leave out one of the most obvious powers of porcelain veneers, and that's the power to reverse the clock.
As you age, your teeth will become stained or discolored. It could be from dark foods and drinks like red pasta sauce, wine, or coffee. It could be from certain health conditions or medications. And of course, it could also be from certain bad habits such as smoking.
Another thing that plagues our teeth from regular wear and tear over the years is how the shape and length can change. If you grind your teeth while you sleep or you chew on ice cubes as a habit, for example, it will inevitably alter the outline of your smile as each tooth becomes worn at a different pace and level from the one next to it.
Veneers can reverse all of these effects that time has on your smile! Veneers give you a brighter, whiter smile, and they give you a smile that's even and balanced where all your teeth are appropriately proportioned to each other
With the radiant, beautiful smile that porcelain veneers can give you, you'll be the one with all the power… the power to command attention, the power to turn heads, and the power to enter a room with full confidence knowing you look as great as you feel!
Ready For Your Smile To Look Like A Work Of Art?
Porcelain has had the power to captivate us for centuries, and now you can let it give you a captivating smile for years and years to come. Come to our Boise dental office and meet with Dr. Hastings and our team at Times Square Dental. Let's see what veneers have the power to do for you!
Call us today at 208-278-1069 or fill out our convenient online form to schedule an appointment.
Please login to publish a comment.
Comments (0)