A Dentist Offering Pediatric Dentistry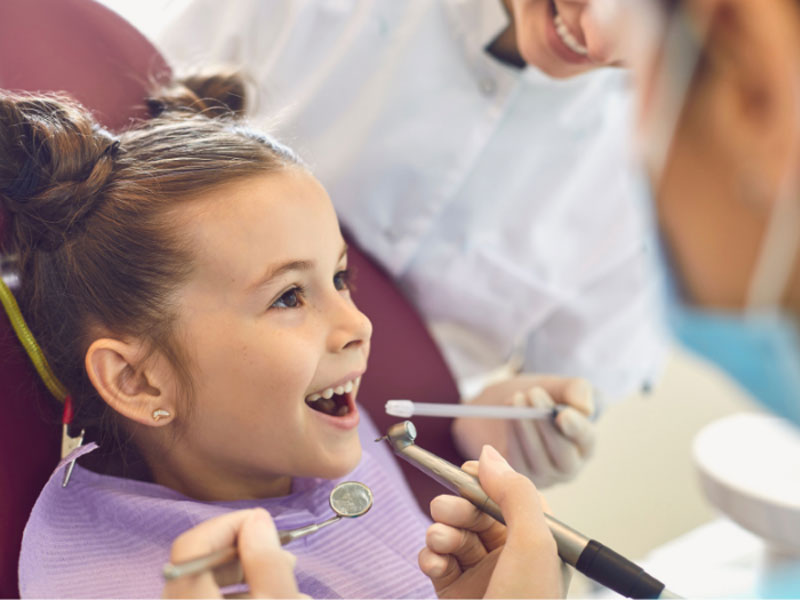 If you have a little one in your home, you should bring him or her to a pediatric dentist as opposed to an adult dentist. Pediatric dentists have the training, expertise and dental equipment necessary to treat youngsters' mouths in the safest and most effective manner possible. Don't assume your regular adult dentist will suffice for your toddler's dental treatment. The experience and know-how of pediatric dentists are essential for comprehensive dental examinations, cleanings and even early restorations.
Pediatric Dentistry Basics
Pediatric dentists care for children's teeth from the infant years all the way up to the teenage years. Aside from the nuanced education, experience and dental tools necessary to treat children's teeth, pediatric dentists are also revered for their ability to keep kids calm. After all, the average child does not view visits with the dentist in a favorable light.
Pediatric dentists know exactly what types of dental equipment, procedures and aspects of cleanings and exams intimidate kids. Such specialized dentists understand how to approach child dentistry to ensure a pleasant experience. This is exactly what you and your little one need, to enjoy a peaceful and comfortable visit with the dentist. Some kids even enjoy visits with the dentist so much that that actually look forward to subsequent visits. You will be hard-pressed to find the same type of response following your kids' visits with traditional adult dentists.
Pediatric dentists agree the best time to bring your child to the dentist is six months following the eruption of the first tooth. This is the ideal time to have the pediatric dentist examine your child's mouth development. When in doubt, err on the side of an early visit. Pediatric dentists will look for signs of baby bottle tooth decay, extended thumb-sucking, teething irritations and other oral health issues that commonly plague children.
Pediatric Dentists Have the Nuanced Training Necessary to Care for Developing Teeth
Pediatric dentists have spent years in school, learning and training to master this dentistry niche. Such specialized dentists have the training necessary to care for youngsters' developing teeth as well as growing gums and other portions of the mouth. Pediatric dentists understand exactly how to handle the many threats to infant, tween and teen oral health.
Bring your little one to a pediatric dentist and you will find this specialist knows exactly how to treat his or her over-retained baby teeth, cavities, early tooth decay and other problems that tend to plague youngsters' oral health. Such oral health experts also know how to handle wisdom teeth in older adolescents and teenagers. Pediatric dentists have the expertise necessary to sedate kids to just the right level to facilitate potentially painful dental treatments and procedures.
Pediatric Dentists Invest the Time and Effort Necessary to Customize Care to Each Individual Child Patient
Pediatric dentists go to great lengths to fully customize oral treatments and procedures for each unique youngster. These dentists provide care fully suited to your child's unique stage of development. Such professionals have mastered the techniques and strategies necessary to teach the best oral health habits at the earliest point in life. Bring your little one to our pediatric dentist, Dr. Jon Hastings, and we will establish the foundation necessary for a lifetime of beautiful, healthy and fully functional teeth and gums.
Pediatric Dentists are Also Habit Counselors
Kids often fall into the trap of sucking their thumb and/or grinding their teeth. If your child finds it difficult to break such a habit, do not assume there is no hope. Bring your little one to the pediatric dentist and it will be that much easier to overcome this challenge. The pediatric dentist will meet with your child, explain the destructive habits that damage the teeth in terms he or she can understand and create a launching pad of sorts for improved oral health in the years to come. Perhaps most importantly, the dentist will speak to your child in a careful and friendly manner that does not intimidate. This oral health specialist will invest the time and effort necessary to help your child put an end to the destructive habit(s) in question.
The Specialized Dental Tools Necessary to Treat Kids' Teeth and Gums
It does not make sense to bring your little one to a traditional adult dentist. A regular dentist will subject your child to the types of procedures and treatments administered to adults. Perhaps most importantly, such procedures and treatments will be performed with dental instruments used in full-grown adult mouths. The better course of action is to bring your child to a pediatric dentist who will perform dental procedures and treatments with appropriately-sized diminutive equipment. Such small dental tools are carefully designed for the mouths of children, tweens and teens.
If your child is particularly afraid of a certain procedure, treatment or even a visit with the dentist, the pediatric dentist will ease him or her into the appointment with considerable care. Some pediatric dentists go as far as showing the young patient the dental tool in question and explaining its purpose before using it for the treatment or procedure.
Pediatric Dentists' Offices are Geared Toward Kids
It is no secret kids hate dental appointments. Even if you are bringing your child in for a simple exam and cleaning, he or she is likely to put up a fuss. If you bring your child to a conventional dental office for adults, the facility will not be properly equipped to treat his or her comparably small mouth. The subtleties matter a great deal. Aside from the small dental tools necessary to treat youngsters' small mouths, waiting room and facility aesthetics also matter. A pediatric dentist's waiting room is carefully designed to keep kids busy, entertained and happy. Bring your kids to such an office and they will prove that much more agreeable to the ensuing dental exam, cleaning, treatment or procedure.
Specialized Training for Every Stage of Tooth Development
Oral healthcare needs change across the aging process. Pediatric dentists have extensive training in each stage of dental development. These specialists understand how the teeth are supposed to develop at each age. Pediatric dentists know the best approaches to solving nuanced circumstances that occur in each stage of development all the way up until adulthood. Bring your little one to a board-certified pediatric dentist and you will rest easy knowing this professional stays up-to-date with the latest dental care treatments, procedures and methods for kids of all ages.
Do not make the mistake of bringing your child to a traditional adult dentist. Schedule an appointment at Times Square Dental in Boise - our pediatric dentist to ensure your little one receives the best possible oral healthcare. Give us a call at (208) 314-1901 to schedule an appointment at our Boise, Idaho location. You can also fill out our online dental appointment request form to book an appointment. We look forward to hearing from you!
Please login to publish a comment.
Comments (0)