Family Dentistry at your Boise Dentist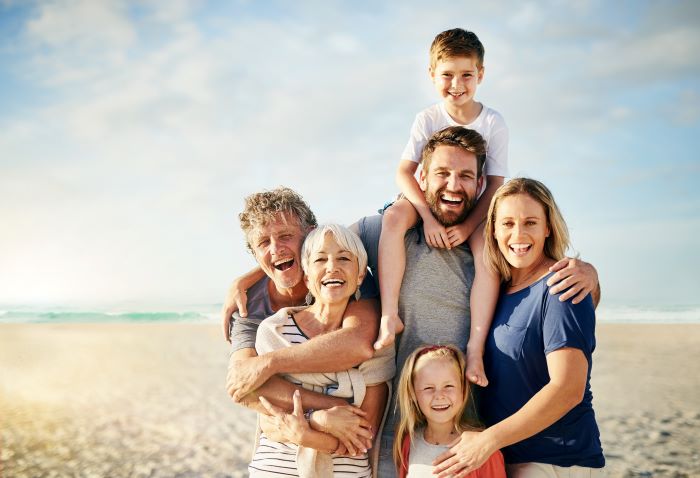 There is nothing more important than a smile you can be proud of. You want to feel confident when you open your mouth, when you laugh, when you have conversation, and when you let your personality shine.
However, the sad truth is that there are numerous people who cover their mouths when they talk, smile, and interact with others. That's not the sort of life that you want for yourself. And it's not the sort of life you want for anyone in your family either. This is why regular visits to the dentist are so important. Not only does this mean that your teeth and gums will always be healthy and strong, but it will also ensure that you your teeth are straight and growing correctly at every age.
Family dentistry is something that is valuable to everyone. Simply put, doctors who practice family dentistry are able to provide services to every age group and every type of patient. It doesn't matter if you are bringing in your six-month-old child, your toddler, your teenager, your spouse, or grandparent. No matter who comes into the doors of a family dentist's office will receive the best of care and have all of their issues addressed.
Times Square Dental has proven again and again that we have what it takes to make your entire family comfortable and happy and looking their very best. Our trained team of caring, compassionate, gentle experts will be able to address anything that is bothering your mouth. But beyond that, our clinic is a Boise dentist office that will make you feel comfortable no matter while you are visiting. If you are attending for a regular visit, a procedure, or any other matter, our professionals at Times Square Dental will make you feel at home.
What does a family dentist provide for patients? There are actually many things that family dentists do but the most common procedures include:
Regular cleanings: This is the big one. Six-month exams are very important for patients of all ages, from newborns to the elderly, because they will stop any serious oral health issues because they get too bad and out of control. Tooth decay and gum disease can be spotted long before they are critical with regular cleanings and that is why family dentists are experts at performing this.
Cavity Checks: No matter how hard you try, cavities happen! This is especially true with our young clients, who love to enjoy sweet candies and drinks more often without the proper precautions. That is why cavity checks are yet another vital service we provide at Times Square Dental. Did you know that, as common as it is, tooth decay is completely preventable? It's true! This is not a problem that needs to plague the members of your family. No matter the age or the situation or the severity, our team at Times Square will be able to check and address any cavity issues that are bothering you and your family.
Gum Disease: Sadly, gum disease has become more and more common for people, including youngsters and the elderly too. Family dentists are able to treat gum disease at any stage, from the very beginning when it isn't even noticed to the point when it is actually causing serious pain or discomfort.
Orthodontics: While not all family dentist clinics and office offer orthodontics, they are able to discuss them, address issues related to them, and can give good advice and even provide some treatment related to orthodontics.
Fluoride Treatment: Fluoride treatments are a terrific way to stop tooth decay, prevent it in the future, and are especially effective with children. With an expert team of family dentists, even the youngest members of your family will be able to feel happy and secure with their smile knowing that their teeth are stronger than ever thanks to fluoride.
Comfort: One of the biggest things that sets a family dentist apart from other types of dentists is that they are able to handle children well. Admittedly, many kids don't like visiting the dentist for a number of reasons. And sometimes it's really hard to keep them calm, comfortable, and able to go through an entire procedure. But when you visit a family dentist like Dr. Jon Hastings at Times Square Dental in Boise, your child will feel nothing but relaxation and true comfort.
How is this achieved? Our team emphasizes compassion, care, gentleness, and understanding for all of our patients, including the youngest ones. We understand the things that frighten children, and we do our best to avoid them. Coming to the dentist doesn't have to be scary and it won't be when you take your young ones to Times Square Dental. With our group of trained experts, your child will no longer fear coming to the dentist every six months. Instead, they will actually feel excited to see the smiling faces at Times Square Dental.
But we don't just make kids feel happy stepping into our office, we will make sure that anyone who walks through our doors feels nothing but comfort and peace before, during, and after their visit. Family dentistry isn't only about children, but it's obviously about the whole family. Fathers, mothers, grandparents, children - everyone is going to be taken care of with care at our friendly location in Boise.
It is vital that everyone, no matter their age, visits the dentist. Sadly, far too many families don't make this a regular habit. This can lead to gum disease, cavities, and other serious oral health issues. But when you instill the concept of strong oral health in your children at a young age, it is something that will reward them for the rest of their lives.
Family dentistry is about making your trip to the office as easy as possible. Dentistry doesn't have to be frightening. It doesn't have to create anxiety. It can be relaxing, rewarding, and even fun with the dental team at Boise's own Times Square Dental. Contact us today!
Please login to publish a comment.
Comments (0)