Slow Down For Your Smile This Summer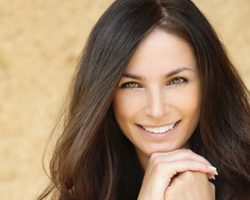 Summer is the perfect opportunity to slow down a little bit. With the kids out of school, there isn't such a mad rush every weeknight to do homework, make dinner, and race off to this practice or that ballgame.
With the longer days and a less hectic schedule, our team at Times Square Dental thought it was the perfect chance to talk to you about the value of spending just a few minutes each day to invest in your smile.
One of the biggest threats to our smiles in this country is gum disease. It can creep up on you over many years, sometimes without symptoms, and is the leading cause of tooth loss in America.
We don't share this dental health issue to scare you. The opposite is true! We want to empower you! Our goal at Times Square Dental is to give our patients the tools they need to achieve their best oral health. We believe one of the most effective ways we can do that is through information and education.
But we don't stop there. To Dr. Hastings and our caring team of professionals, it's not enough to simply identify a problem. Our Boise dental office wants to go one step further than that today by offering solutions.
Since we know your time is valuable, we're going to go ahead and dive right in!
Good Oral Health In 5 Minutes
Believe it or not, you can prevent gum disease in as little as five minutes a day. That's right, just five minutes!
The American Dental Association (ADA) recommends brushing your teeth twice daily with a soft-bristle toothbrush for two minutes each time. So if you were to open iTunes, press play on your favorite song and set your phone on the bathroom counter, you'd be finished brushing your teeth thoroughly well before that song is over.
So doing that correctly two times a day brings us to four minutes total. Can you devote that kind of time to your smile? Let's consider something else…
The ADA also recommends flossing your teeth once a day. Is this something you already do? If you answered no, you're not alone.
In fact, the ADA recently released a study that shows a startling statistic about flossing. According to this study, only 1 in 5 Americans claim that they floss their teeth every day. Why does this matter?
Because even the best toothbrush can't adequately clean those hard to reach places between your teeth. Dental floss is the most effective means of dislodging food particles and debris from these areas. By doing this, you're taking away the food supply of harmful plaque bacteria that's largely responsible for gum disease in the first place!
So there you have it: four minutes to brush, and one minute to floss. Just five minutes each and every day can help you prevent gum disease and help you keep the healthy beautiful teeth you have.
The Risk Of Rushing Your Oral Care
If you rush through these recommendations, by brushing too quickly or by not flossing between every tooth, you're increasing your risk for gum disease. Even if you don't rush and you dedicate the full five minutes to this hygiene routine, incorrect form can also make your regimen ineffective in fighting gum disease.
Your periodontal health is a window to your overall health. In its advanced stages, you not only face tooth loss, but you become more vulnerable to chronic inflammatory problems, respiratory infections, heart disease, stroke, and diabetes. The list goes on!
When you come to your next appointment with Dr. Hastings and our team in Boise, make sure you talk to us about proper brushing and flossing techniques!
Make Time For Your Smile This Summer!
While you're taking a little more time this summer to stop and smell the roses and to enjoy quality time with your family, consider making Times Square Dental one of the places you visit along the way!
We offer dental cleanings and exams, as well as treatment for gum disease to help you get your oral health back on track.
We are here and ready to help you and everyone in your family achieve good oral health for life!
Give us a call today at 208-278-1069 or fill out our convenient online form to schedule an appointment.
Please login to publish a comment.
Comments (1)
---

Its a thing of joy writing this, Am a UGANDAN CITIZEN currently in DALLAS TX I got attacked with STROKE 6 YEARS BACK, It was the worst experience of my life, I tried all I could to walk with my feet again but nothing change, I ended up in the wheelchair with all hope lost, all I do was to eat and be on my phone, I saw a write about a HERBALIST who cure stroke, I contacted him through email dr.taiye@gmail.com. I SAW HIS DETAILS I trusted him with all my heart. I told my wife about it, She never believed. DR. TAIYE ask if can visit HIM or he should send the medication through DHL & follow the instructions attached He listed the instruction it was what I can obey, Few days later i received The medication from the DHL courier services. Although money was involved but that was not my problem, Dr. TAIYE always says health is wealth and is when you in good health you can make money, I used the medicine as he instructed, I drink and scrub the surface with medication on the seventh day I could stand up right with my feet and move my body... stroke of 6 years becoming a history just for trust dr. taiye. I used it for 14 day as DOC TAIYE instructed. now I can walk and make use of my body to the fullest, I never thought this day will ever come, DR TAIYE my family and I say a very big thank you. you save me and restore all I have lost. I don't know where you are reading this from. on the wheelchair, sick bed? contact DR. TAIYE today, its never an easy decision, there will be a discourage moment but don't give doctor taiye will help you get back to your feet DR. TAIYE HEAL STROKE PERMANTLY, without any side effect contact him today and be free dr.taiye@gmail.com,+2348075255026. share this when you see to save a soul